I am a lifelong New Yorker and I have never shopped in Manhattan on Black Friday.  Even though it's only a short train ride away from our suburban town, it always seemed like an idea akin to swimming with sharks.  I just don't have that predatory shopping gene.  I don't even like shopping in the suburbs on Black Friday.  I remember back when Daughter was in preschool and Cabbage Patch dolls were the coveted toys, one of the mothers offered to stand in line on Black Friday and secure one to give away as a holiday raffle prize.  She said she would get to Toys 'R' Us at 5:00 am and not leave until she had one in her hands, even if she had to do battle.  I recall thinking she was either very brave or quite insane.  Possibly both.
This year, the first day of Hanukkah fell on Thanksgiving, something that won't happen again until 2070.  I'll be 116 by then and still waiting for the hot flashes to pass.  As it happens, this was also the first Thanksgiving I ever spent without my children.  They were both visiting close relatives in other states, so it was a bittersweet holiday.  In an effort to cheer me up, Husband made reservations for a delicious Thanksgiving meal at a swanky restaurant with a wine room as big as your average Starbucks.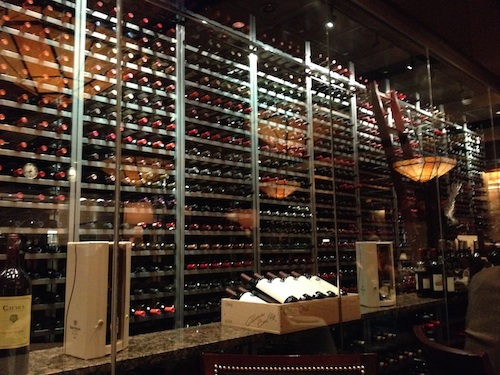 It was the loveliest dinner.  I awoke on Black Friday with a need to do something besides continue to digest the sauteed butternut squash and grilled asparagus of the day before.
OSV:  Hey, I think I'll take the train into Herald Square and visit Macy's.
Husband's eyebrows went up as he faced me.
HUSBAND:  You?  In the city on Black Friday?  What are you shopping for?
OSV:  Nothing.  Pictures of the Macy's windows.  A hot salted pretzel from a vendor on 7th Avenue.  Little kids getting photographed with Santa.  You know, like that.
HUSBAND:  (hugging me)  I hope you find what you're looking for.
The MTA added extra trains for us Black Friday shoppers, and the 11:05 am express I boarded to Penn Station was packed.  Even so, nothing prepared me for the sea of humanity I encountered at Herald Square.  Macy's "doorbuster sales" were on until 1:00, which meant wherever you were in the store's 2.2 million square feet, you were elbow to elbow with mankind.  The view down on cosmetics from the mezzanine resembled those mass exits at South American soccer games, the ones where people get trampled and make the 11:00 news.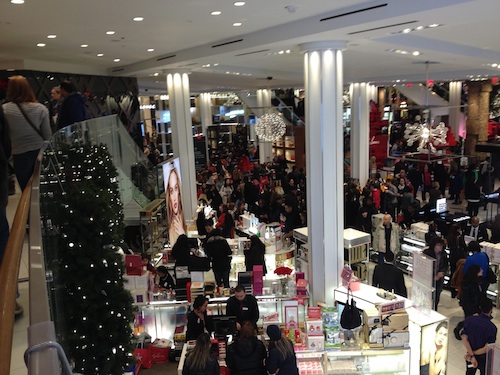 I quickly realized that this was target shopping.  You had to designate one department to visit because it just took forever to move down an aisle.  Any aisle.  I headed for menswear to get Husband something for being so sensitive about my Thanksgivukkah state of mind.  The sweater department was mobbed.  What are the odds a huge crowd would be looking for a wool-blend, shawl-collar cardigan?  You'd be surprised.  I found one I liked and set it down on a display while I adjusted my winter coat and scarf.  A male shopper picked the sweater up and started to walk away.
OSV:  Oh, that sweater is mine, sir.  I just set it down for a second.
MAN:  Is it on sale?
OSV:  I believe everything is on sale.
I waited, but he didn't put it down.  He appeared to be fingering the sleeve possessively.
OSV:  Sir, that sweater is an XL.  I don't think you wear an XL.  May I have it back, please?
It was the last XL in blue on the rack and I wasn't giving up so easily, especially to someone who clearly wore a medium.  After a few seconds, he reluctantly held it out and I made a grab for it as the never-ending swarm of shoppers knocked into both of us.  Clutching it against my chest, I pictured giving Husband his new cardigan unraveled into a ball of wool-blend yarn.  I fought my way to a checkout station with three cashiers and a long line in front of each of them.  They kept calling out, "Form one line, please!  You need to all move into ONE line," but no one budged and the cashiers continued to take care of each customer in turn.  Mob rule.
Outside in the seasonably cold sunshine, the line to view the traditional holiday window displays snaked inside the velvet ropes.  Everyone pointed and smiled and posed their kids against the backdrop of universal Christmas.  Muslims, orthodox Jews, Asians, Indians, you name it, Christmas was the name of the day.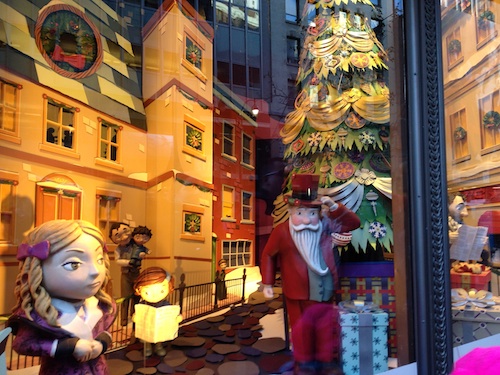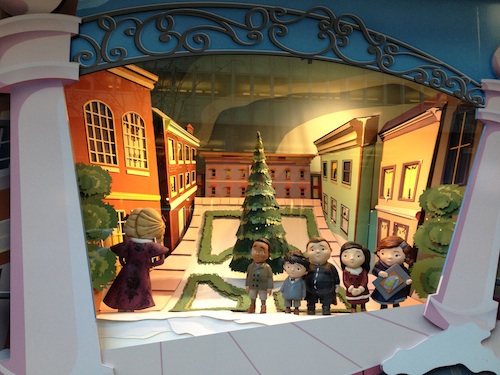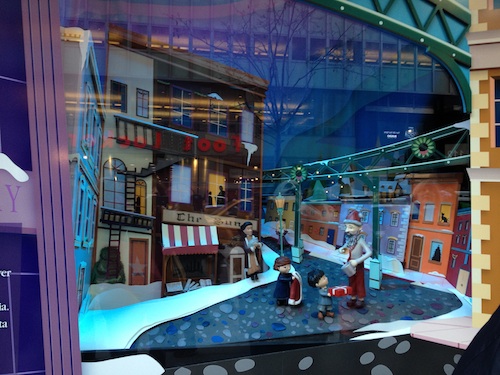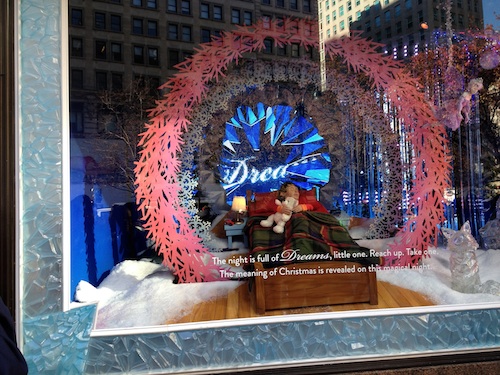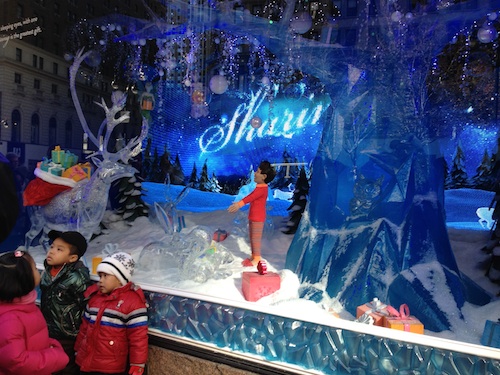 Not satisfied with photographing other people's children in front of the window displays, I moved on to other people's family posing with Santa.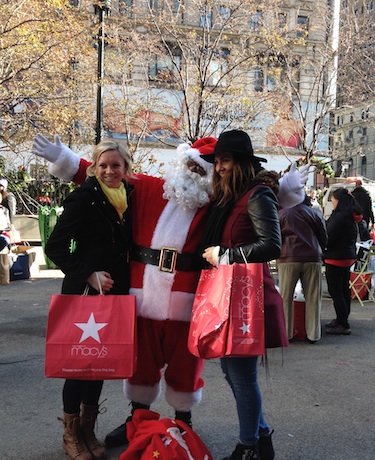 It was a really good day, and just what I needed.  Alone in a throbbing horde, I had a chance to reflect on the things I am truly grateful for: my family and friends, my memories and dreams.  As time passes, there will be many occasions when my adult children will be elsewhere, no matter how much I'd love them to be home.  It's all part of growing up.  And by that, I mean me.
Happy Thanksgivukkah.