One day several months ago, I went to return something at Marshall's, and when I got back I discovered we were going to Las Vegas.  I had never been to Vegas and never even considered going, but while I was out Husband picked up a phone call about some time share offering and he figured, what the hell.  Since I wasn't home to say, "Vegas?  No way!" we were booked.  In response to my incredulous look, Husband said, "Everyone should go to Vegas once in their life.  Let's go for our anniversary this year."  I'm writing this the week before Thanksgiving, and we just got home.
I had a ball.  Neither Husband nor I drink or gamble, so I'll have to elaborate on why it was so much fun.  First, we arrived during the Las Vegas Marathon, so the entire Strip was closed to traffic.  This made getting to our hotel on the Strip practically impossible, so we drove around Vegas for two hours and ate at Dickie's Barbecue, which was insanely delicious.  When we finally found a back way to reach the hotel, the front desk said, "Really, you couldn't get here?  We're right on the Strip."  We told them about the marathon, and they said, "Oh, right.  Then the Strip's probably closed."  Probably?  This was a big, fifty-floor hotel with a circular shopping mall inside.  Las Vegas IS the Strip.  It's shut down with 30,000 runners on it and you don't really know?  It was my first taste of the strange insularity of Sin City and the tempo that exists nowhere else.  What other place holds a marathon at night?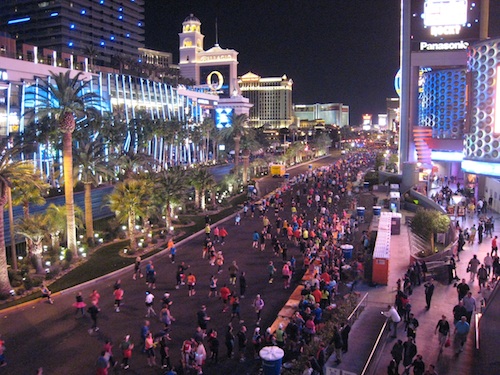 When we got up to our room, this view was waiting.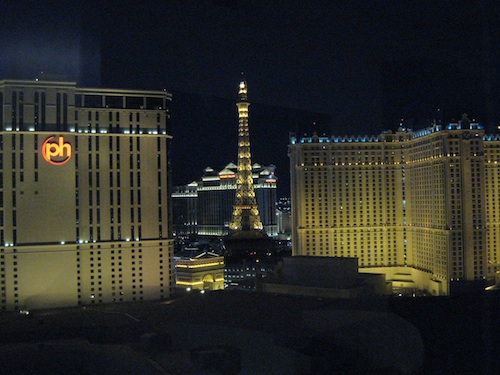 We went back downstairs to watch the race, and in no time a woman came up to us and asked if we were happily married.  She was holding a mini keg of beer in one hand, so it was easy to figure out that this wasn't an official survey.  We said yes and she asked if she could hug us.  She pointed to a group standing off to the side, also with an arsenal of drinks in their hands.  "It's on a dare," she explained.  "The two couples I asked before you said no, they weren't happily married.  Please?  Can I hug you?  It's a dare."  We looked at the woman, the group of friends, and then each other, and shrugged.  "Okay," we said, and she gave us a big drunken hug and a woozy thank you.  The friends cheered.  Being New Yorkers, we felt for our wallets as we walked away.
The next night we attended the Marc Savard Comedy Hypnosis Show and I volunteered to be hypnotized onstage.  Sadly, I was among those eliminated when I failed to go under, but in the end it may have been a blessing since the participants onstage wound up pole dancing, scratching their crotches, and acrobatically Riverdancing.  It could have been a memorable YouTube moment to share with my friends back home, or an ambulance trip to a Vegas hospital; we'll never know.  The show was hilarious and highly recommended, albeit nothing you'd want evidence of on your Facebook page.
Back out on the street, Vegas continued to entertain.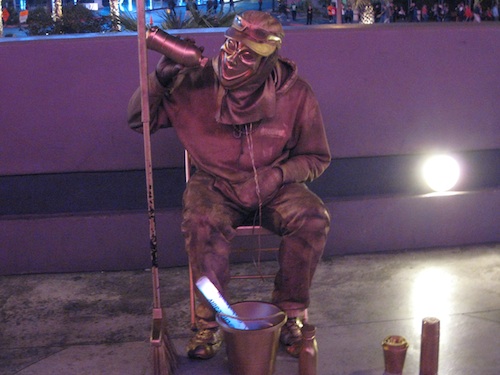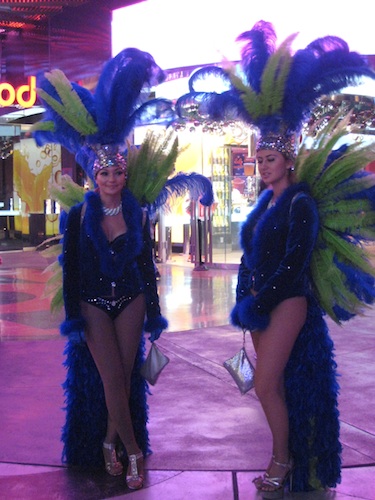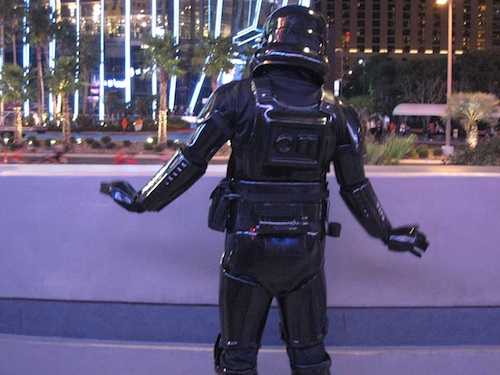 There was a normal-looking young man standing in normal-looking clothes holding a handmade cardboard sign that said, "Kick me in the nuts for $20 (no cup)."  It's hard to imagine the wisdom of making a living that way, cup aside, and although I had no desire to kick him, I would have liked to take a picture of him and his offer.  But I felt loathe to encourage that kind of enterprise, so I gave my tip instead to Cupid, who represented something slightly more altruistic, although just as bizarre.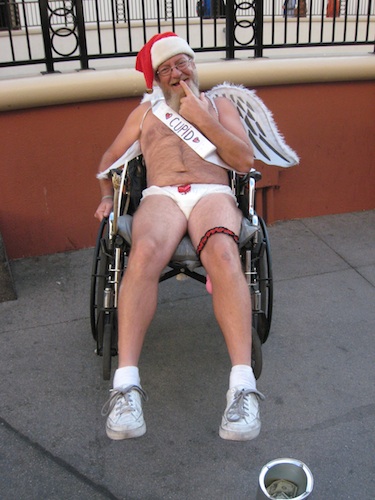 After a nice meal and an annoying time share presentation that we happily ignored, our next venture was to appease me and visit the Pawn Stars shop featured on The History Channel, which is clearly now fresh out of real history and speaking more to absurdity.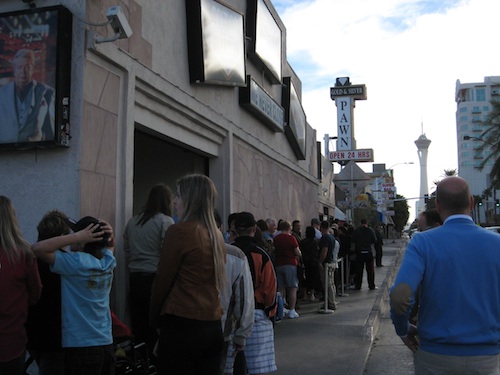 The line to get into the shop was around the corner, so I struck out on my own to visit some of the well-known hotels like the Belaggio, with its amazing lobby ceiling.
It also turns out that Nevada has more than Vegas to recommend it.  There's the Hoover Dam and Red Rock Canyon.  Husband and I traveled to the Valley of Fire State Park with its colorful vistas and strange rock formations known as the beehives.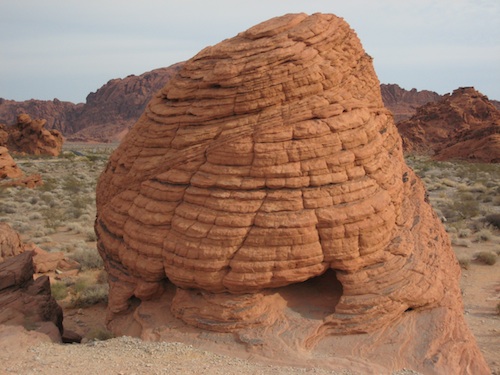 We found some ancient petroglyphs to satisfy Husband's archeology jones, and then headed back to Vegas, which was unchanged since we had left it that morning.  The characters were all out on the Strip, the lights waiting to be turned on, and the line at the pawn shop gone.  I strolled inside and had my moment of History.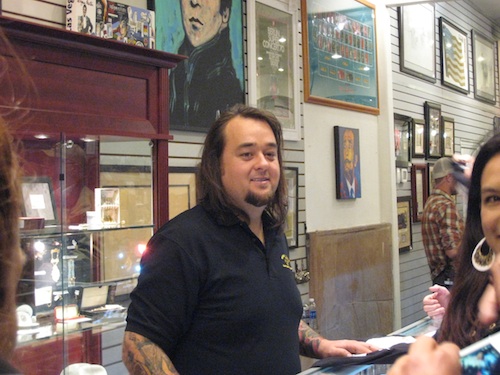 Thank you, Las Vegas.  You are tacky and gritty, splendid and entertaining, disturbing and strange.  You really did make it hard to leave.